Sophie Blake NY will be debuting the Mahana Collection in a few weeks and we are excited to share a sneak peak of our inspiration behind this season's collection!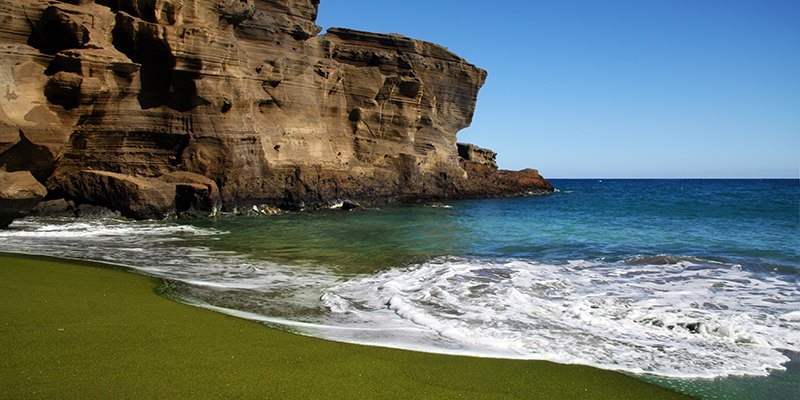 Where is Mahana?
Our latest collection is inspired from Sophie's trip to Hawaii's Big Island. The Big Island of Hawaii, largest of the island chain, boasts some Hawaii's most varying landscapes and encompasses 12 distinct climate zones.
Visitors marvel at the scenic beauty and the different climates ranging from the coastal jungles in Puna, the snowcapped peaks and stargazing reach of Mauna Kea to the warm and tropical sandy beaches.
While it is difficult to encompass the beauty of all the varying landscapes of the Big Island, Sophie was enchanted by one unique location called the Mahana Beach (also known as Papakōlea Beach). She decided to dedicate her Spring & Summer collection to this mystic beach located at South Point.
What makes this beach so unique you might ask? It is one of only four green sand beaches in the world. Secluded and tucked 2.5 miles of a hike each way, it is part of an eroding volcanic cinder cone; with fine-grained deposits of semi-precious olivine stones that later mix with yellow and black sands, giving the beach an unusual mosaic of colors.
Meaning of Mahana
MAHANA means "sun" in Tahitian and "warmth, heat" in Hawaiian. We thought it would only be fitting to transport you to this mystical place, with a backdrop of the blue sky, green sand and washed up seashells on the beach. This color combination alone was enough to inspire our 3 key colors for this collection: Olivine (Peridot), Shell and Sky.
Hawaiian Jewelry Explored
Hawaii's cluster of Islands is the perfect place to get inspired. With so many climate zones and beautiful natural elements, native islanders have had no shortage of natural materials to create handmade pieces of jewelry that are unique and distinct world wide.
Some of the most signature materials used in Hawaiian Jewelry:
Shells varying from Puka, Opihi, Cowrie and many more are one of the most traditional materials used in Hawaiian Jewelry.

Beads from the shells of coconuts in varying colors are used to create patterns in necklaces and bracelets.

Bamboo is used to create beads that are usually lacquered to enhance shine and durability.

Shark's tooth is another natural material used and believed by tradition to give you the power of the shark. Necklaces using multiple teeth are believed to be very powerful amulets.

Mother of pearl is a lustrous material used for inlaying rings and pendants.

Finally, the most recognized of all, the Plumeria, also known as the Hawaiian lei flower, is widely used to create beautiful necklaces, often given as a welcoming gift to newcomers.
MAHANA INSPIRATION
The Mahana collection is inspired by natural sea forms, organic terrain of the Hawaiian landscape. All the designs stay true to the modernity of calming tones, the peridot sand beach, seashell formation surrounded by the vibrant blue sky, aesthetic that always embraces minimalism and the beauty of nature.
Stay tuned for Issue N°18: Part 2 as we share the next key color of the Mahana collection.
What Inspires You?
We want to know what inspires you and how you express yourself with SOPHIE BLAKE NY jewelry!
The SB Journal - Issue N°18 Part 2 Coming Soon!
Be sure to check The SB Journal often to stay connected with us. Say hello on our social pages and use #sophieblake and #sophieblakeinspo to show us your jewelry inspirations!